When it comes to purchasing a certified pre-owned vehicle, Philly Auto stands as a renowned name in the Philadelphia area. They take pride in offering a vast selection of pre-owned vehicles and have established a reputation built on transparency, customer-friendly experiences, and consistently exceeding expectations. Their team is notable for its remarkable loyalty, with many members serving for 15+ years and some for 40+ years. As a family-owned business, they treat customers and employees like extended family members and are deeply grateful for their support.
Chevrolet, an American car manufacturer with over a century of experience, is known for delivering powerful performance, top-tier capability, and iconic style. LA City Cars proudly boasts a complete range of Chevrolet cars in its inventory.
The Benefits of Buying Certified Used Cars
Purchasing a new vehicle can be costly, but used vehicles offer an attractive alternative. Finding a reliable used car, however, can be a challenge. That's where LA City Cars' Certified Pre-Owned (CPO) program comes into play. This program offers peace of mind to used car shoppers by subjecting vehicles to thorough inspections conducted by trained mechanics. Buyers can confidently trust that these cars have many miles left in them.
In a vast automotive market, selecting the right vehicle can be a daunting task. What sets Chevrolet apart?
Here are some reasons:
Reputation: Chevrolet, with a century of experience, is an established American car manufacturer known for quality and longevity. Their reputation is well-earned.
Awards: In 2013, Chevrolet received numerous J.D. Power Initial Quality awards, demonstrating their commitment to excellence and innovation.
Safety: Chevrolet boasts more 5-Star overall vehicle safety scores than Ford and Toyota combined, with advanced safety features for added peace of mind.
Selection: Chevrolet offers a wide range of vehicles, from full-size pickups to SUVs, crossovers, and sporty models, catering to diverse customer needs and styles.
Longevity: Properly maintained Chevrolets can last for hundreds of thousands of miles, offering long-term reliability.
Lower Repair Costs: Chevy models are known for their affordability when it comes to annual repair costs.
Eco-Friendly: Chevrolet is dedicated to a cleaner planet, pioneering advancements in eco-friendly vehicles.
Price: Chevrolet provides quality, innovation, and performance at an affordable price, making them a practical choice for many Americans.
By choosing Chevrolet, you become part of a long-standing tradition, joining a family of drivers who value quality, reliability, and performance. Chevrolet's commitment to excellence, innovation, and sustainability ensures they are here to stay, serving both work and play.
Throughout its long history, this automaker has brought us a diverse range of beloved models, spanning from full-size trucks to sleek sports cars. No matter which Chevrolet model you choose, you're assured of a product crafted by one of the finest companies and most skilled workers. With a legacy of producing high-quality cars, trucks, and SUVs, buying a used Silverado, Equinox, Cruze, or any other Chevy model guarantees a vehicle that will stand the test of time. Currently, three Chevy models stand out as customer favorites: the Malibu, Equinox, and Camaro.
Malibu
In terms of safety, the Malibu offers a range of standard and optional technologies to keep you and your passengers safe. These features include:
Automated Emergency Braking with Pedestrian Detection: This system can detect potential collisions with vehicles or pedestrians and automatically apply the brakes if necessary.
Lane-Departure Warning with Lane-Keeping Assist: This feature monitors the car's position within its lane and alerts the driver if it detects unintended drifting. It can even make subtle steering adjustments to keep the vehicle centered.
Adaptive Cruise Control: This feature adjusts the car's speed to maintain a safe following distance from the vehicle in front, improving both comfort and safety.
Blindspot Monitoring with Rear Cross-Traffic Alert: These systems provide warnings if a vehicle is in your blind spot or if a vehicle is approaching from the side while you're reversing, making lane changes and backing up safer.
Forward Collision Warning: This feature offers visual and audible alerts if it detects a potential collision with a vehicle or object in front, allowing the driver to take appropriate action.
The Malibu sedan has also earned high safety ratings from respected organizations such as the National Highway Traffic Safety Administration (NHTSA) and the Insurance Institute for Highway Safety (IIHS). For instance, the 2023 Malibu received an impressive 5-star rating from the NHTSA and scored highly with the IIHS.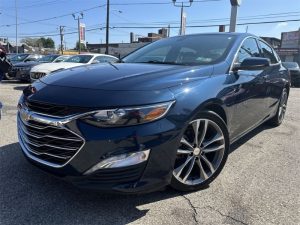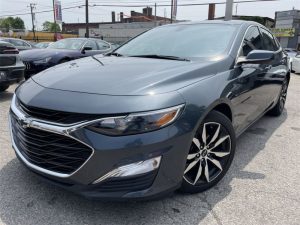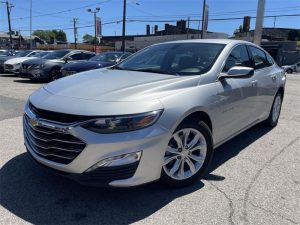 The Chevy Equinox continues to be a highly sought-after choice in the competitive SUV segment. It's designed to seamlessly adapt to your busy lifestyle, offering flexible space and impressive fuel efficiency. Whether you're running errands, commuting to work, or heading out on the town, the Equinox proves to be the ideal SUV for a wide range of needs and activities.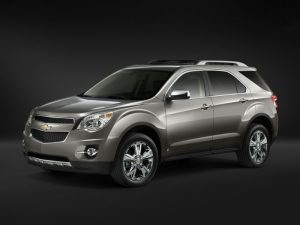 And then there's the Camaro, a symbol of exhilarating open-road experiences. Chevrolet's iconic sports car is meticulously designed with driving enthusiasts in mind, seamlessly combining eye-catching looks with bold and electrifying performance, delivering an unparalleled thrill every time you hit the road.
Since its debut in 1958, the Impala has consistently delivered a roomy interior at an affordable price. The current generation continues this tradition, providing a sizable trunk, comfortable seats, and a smooth ride. These qualities have long defined Chevrolet's full-size family sedan. The car performs adequately and handles its size well, driving much like the smaller Chevrolet Malibu. While the spacious interior offers comfort, it's starting to show its age. Nonetheless, the Impala's attractive exterior design, user-friendly infotainment system, and ample cargo space help it remain competitive in the market.
With such a diverse lineup, it's easy to understand why Chevy models inspire passion and loyalty among owners and fans.
The Financial Advantages of Buying Used
Choosing to purchase a used car or truck can be a financially savvy decision. Used vehicles often come at a significantly lower cost compared to their brand-new counterparts, resulting in upfront savings and more favorable financing terms. Here are some compelling reasons why buying pre-owned car makes solid financial sense:
Depreciation: New cars rapidly lose value, while used cars have already absorbed a significant portion of this depreciation, which translates to cost savings for you.
Insurance: As a used car's value decreases, insurance premiums become more affordable, providing you with greater flexibility in choosing your coverage options.
Repair Costs: Maintaining a used vehicle typically costs less than keeping a new car in top shape.
When it comes to buying a used vehicle, Chevrolet is an excellent choice. Their commitment to quality, longevity, and affordability ensures that you'll get a reliable and cost-effective ride.
In summary, Chevrolet leverages a century of experience to offer a range of award-winning vehicles, making it a smart choice for anyone seeking quality, reliability, and savings. Whether you're considering a certified used Chevy or a brand-new model, Chevrolet's dedication to excellence and innovation shines through. So, hit the road with confidence in a Chevrolet, knowing you're driving a piece of American automotive history.